Custom
Cycling Apparel
with a Difference
So you want some gear? You want gear that lets you showcase yourself, the brands you align with, and you want it to look awesome? Welcome to INK by Black Sheep. Our custom apparel platform that creates beautiful design, without the BS.
Free Stuff
Let's be honest! We want to make your gear for you. And we are not opposed to bribery to make that happen. We'll swing you 10% OFF your first INK order to sweeten the deal. We also promise not to spam you.
Get 10% Off
Blown Away!
Adam Gill. Bikestyle Tours.
BikeStyle Tours is the go-to provider for cycling tours to the world's biggest events. Celbrating the 100th Edition of the Giro d'Italia, we produced a beautiful, classical kit that was worn by over 100 guests on the roads of Italy. There were simply blown away by the quality, and how it looked. We would recommend INK to any group - big or small.
Easy As.
We keep things pretty simple round' here.
You want good gear and you need it soon. We'll design awesome gear and we'll deliver it door to door. Plus, you'll be out on the bike before you know it. That's custom cycling apparel. No BS.
Get Your
Design Started
Our full flex, all out access to the minds and creativity of the garment design team. Think of Black Sheep Custom Apparel as your very own, very covetable, Black Sheep Limited Edition collection - treated with the same attention to detail as our own ranges.
Classic meets modern as Black Sheep and Liberty Fabrics came together to create a capsule infused with over 150 years of British culture. Debuting July 2022, the collection featured timeless floral styles colliding with cutting-edge apparel technology.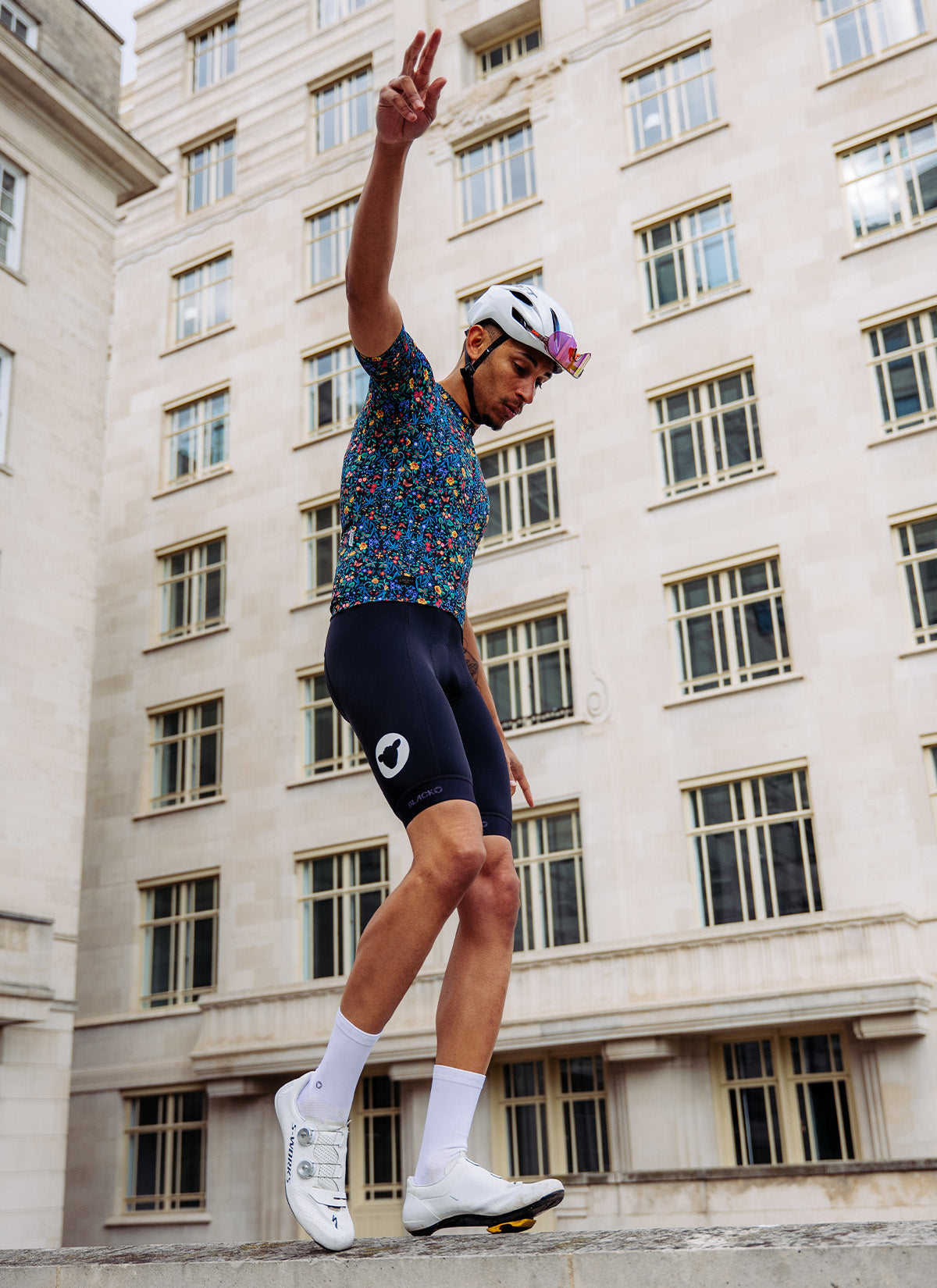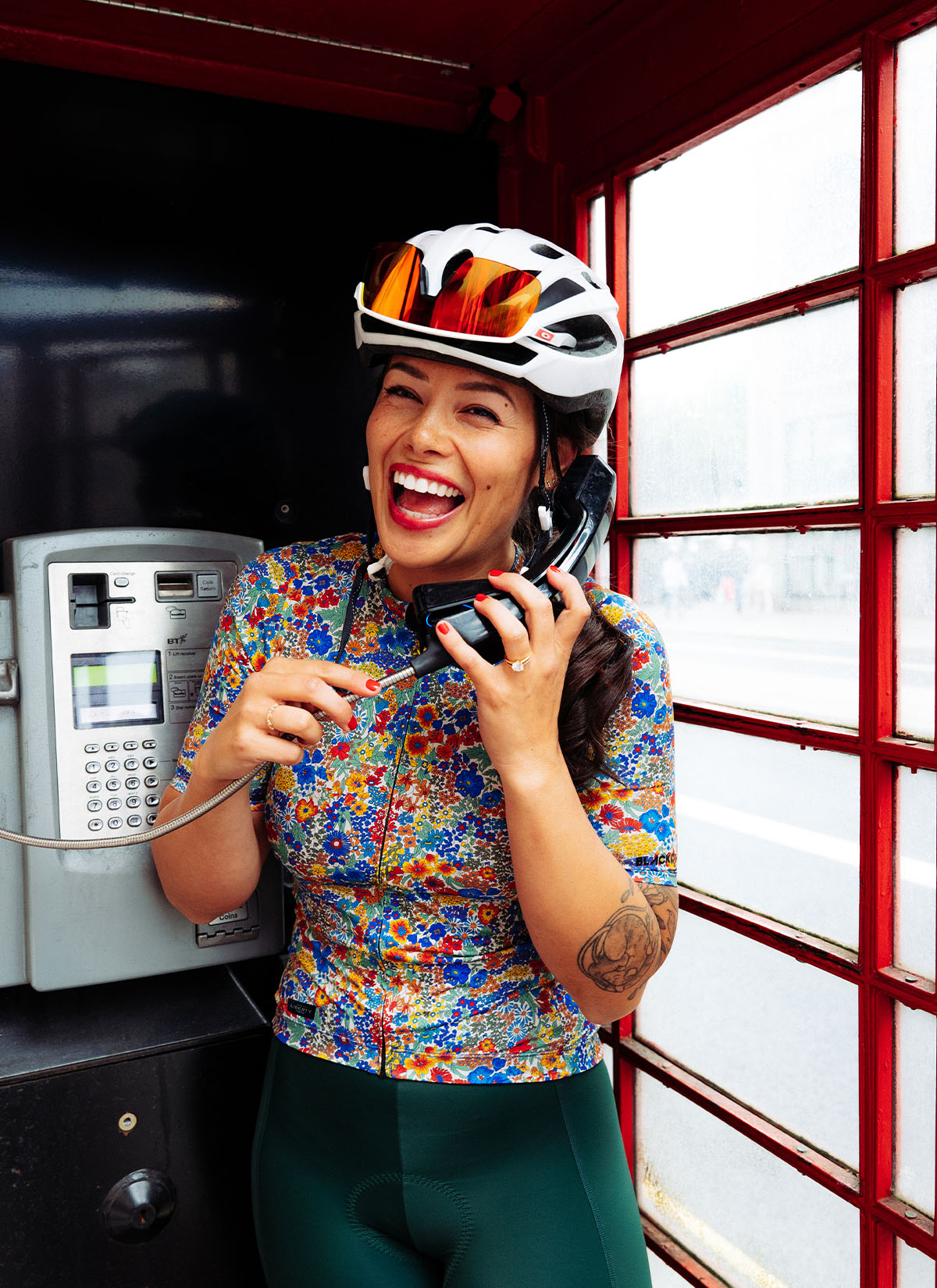 The Liberty Collection sold out in minutes, and remains one of our most requested restock collections (which won't be done, of-course). It celebrated the old and the new, in all its forms, taking unmistakably classic floral patterns and applying them to all-new Liberty active fabrics.
Our models wear Essentials Jersey in Liberty Tapestry paired with Navy Essentials Bibs.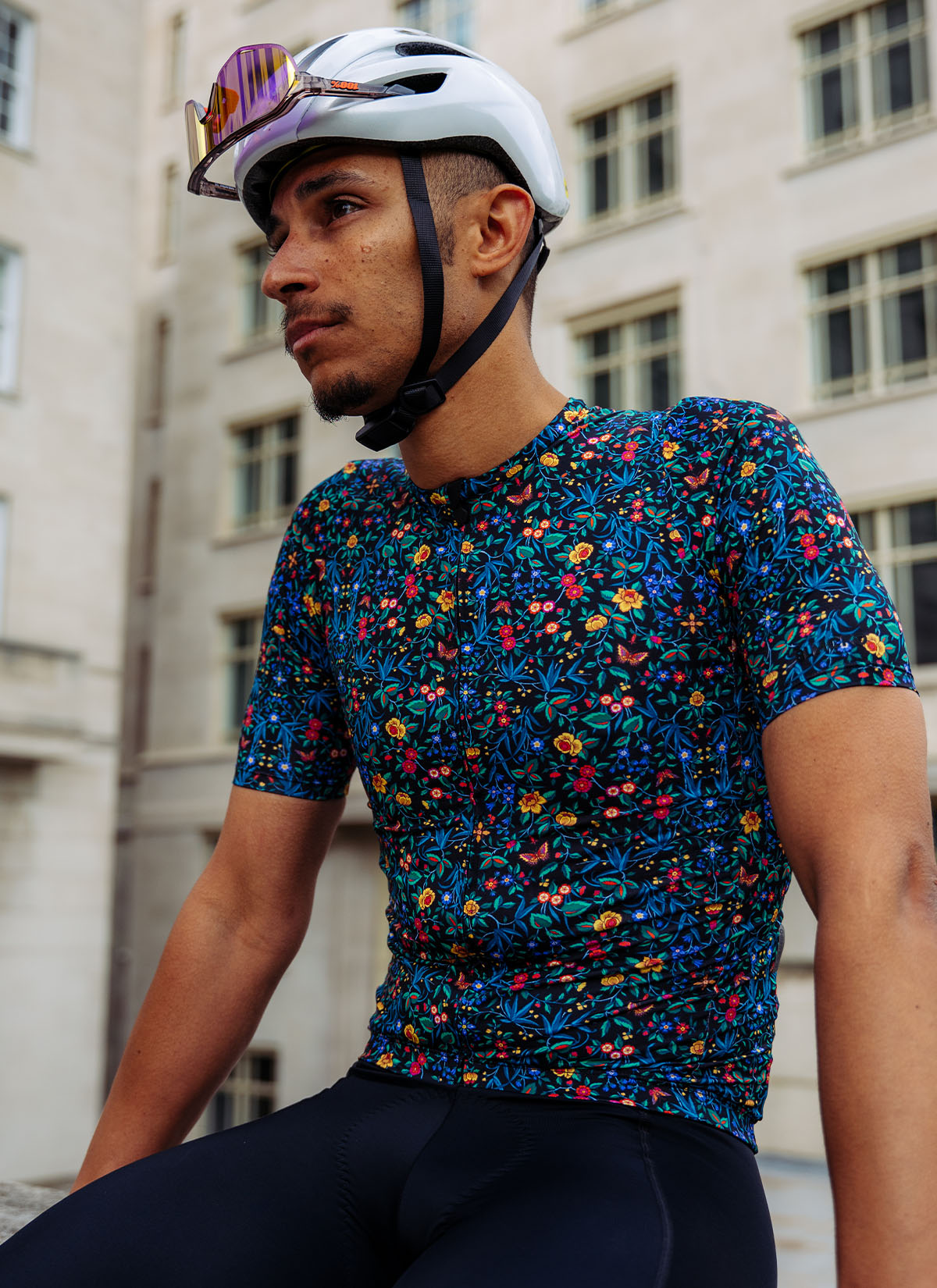 Iconic meets Innovative.
More people than ever are riding bikes, from different places, backgrounds and faiths. They bring with them different needs and a fresh take on the sport we love so much. Creating apparel that appeals to everyone isn't a way of sitting on the fence – quite the contrary. For Black Sheep it's about enabling more people. In more places. To get out and enjoy a life on the bike.

The Liberty Collection did this in spades, and leaves an indelible mark on cycling fashion. Legacy with Innovation is a wild mix.
Our models wear Essentials Long Sleeve, Essentials Hijab in Liberty Annie and Essentials Jersey in Liberty Tapestry.
"I was determined not to follow existing
fashions but to create new ones."
– Arthur Lasenby Liberty.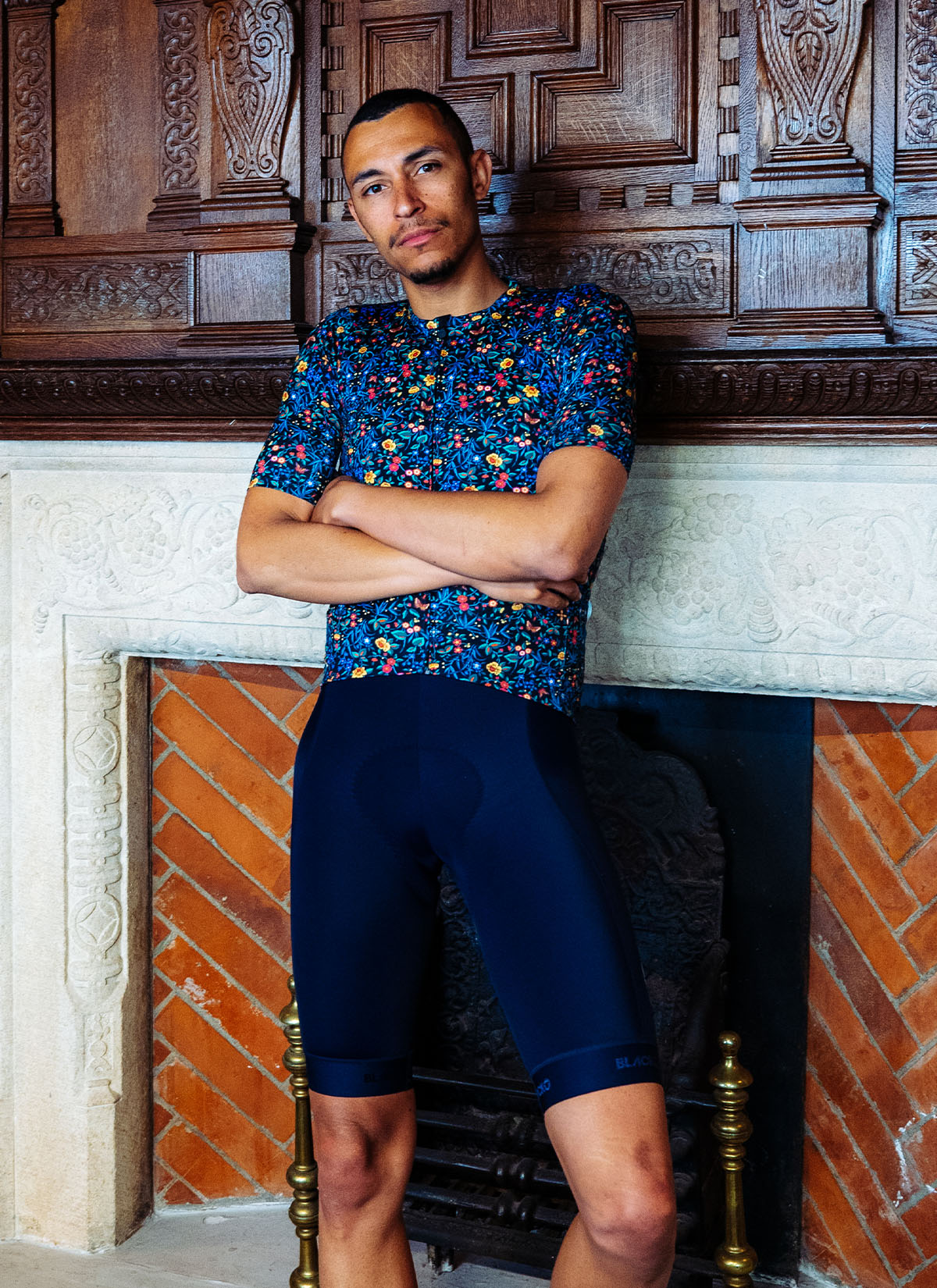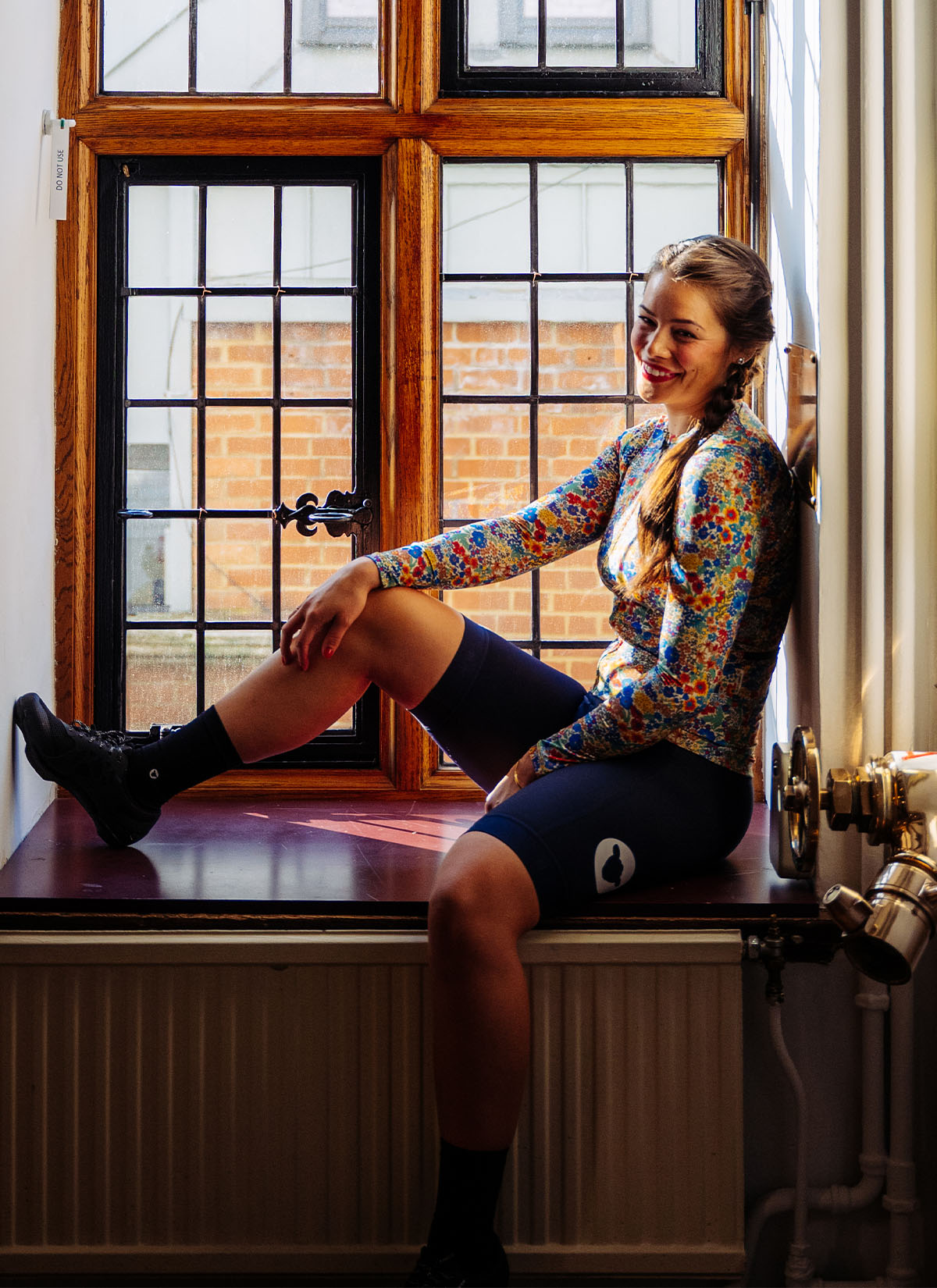 Our models wear Essentials Jersey in Liberty Tapestry and Essentials Long Sleeve in Liberty Annie.
Arthur founded Liberty of London in 1875 as a place to find the most luxurious, exotic and modern fabrics from all around the world in one place. He envisaged it feeling like being on a ship, ladened with exquisite treasures from all seven seas right in the heart of London. No surprise then that the unmistakable oak-panelled interiors were taken from two old navy vessels. Today, Liberty is still one of London's true landmarks. A department store and fabric house that has remained at the heart of British style since it first opened its doors all those years ago.
Liberty has sat with a watchful eye over the crossroads of British culture, and counterculture. They have witnessed every ebb and flow of fashion play out on its doorstep. They say form is temporary, class is permanent. The famous frontage has been at the forefront of Swinging London, seen Mods fight Rockers, Skinheads rub shoulders with Punks and New Romantics give way to the streetwear of the modern-day. That area has seen many tribes come and go, but one thing remained constant. Liberty of London.
While Liberty of London maybe a legendary department store, Liberty Fabrics is a true innovator in its own right. An archive of 50,000 patterns that have brought new styles to British shores, utilised sumptuous silks or versatile cottons they are a byword for class, elegance and of course, floral prints.
These patterns have become truly timeless. And while some of you may think that doesn't sound too much like men's fashion, there's always been a place for flowers in the confident, male wardrobe. Especially where Black Sheep is concerned – fans of our early work will know that only too well.